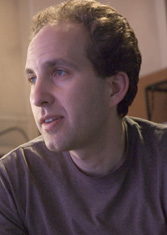 Scott Snibbe
Media Artist and Researcher
President, Sona Research
President, Snibbe Interactive, Inc.
http://www.snibbe.com
http://www.sonaresearch.com
http://www.snibbeinteractive.com

Scott Snibbe creates immersive interactive art that evokes powerful emotional and social engagement from viewers. His works are known for their positive social effects: fostering a sense of interdependence, promoting social interaction among strangers, and increasing viewers' concentration. His artworks have been installed in over one hundred art museums, performance spaces, science museums and public spaces worldwide since 1995 including the Whitney Museum of American Art (New York); the InterCommunications Center (Tokyo); Ars Electronica (Austria); the Institute of Contemporary Arts (London), Science Museum (London); the Exploratorium (San Francisco), the Phaeno Science Center (Germany); and the Cité de Science (Paris, France). He has been awarded a variety of international prizes, including the Prix Ars Electronica and a Rockefeller New Media Fellowship. He is the founder of two companies: Snibbe Interactive, Inc., which sells and distributes interactive installations for public spaces; and Sona Research, which engages in educational and cultural research.

Snibbe was born in 1969 in New York City. He holds Bachelor's degrees in Computer Science and Fine Art, and a Master's in Computer Science from Brown University. Snibbe studied experimental animation at the Rhode Island School of Design and his films have been widely shown internationally. He has taught media art and experimental film at Brown University, The San Francisco Art Institute, the California Institute of the Arts, The Rhode Island School of Design and UC Berkeley. Snibbe worked at Adobe Systems as a Computer Scientist where he made substantial contributions to the special effects software Adobe After Effects and research projects at Adobe Research. Snibbe held research positions at Interval Research where he performed basic research in haptics, computer vision and interactive cinema. Snibbe's research is documented in a number of academic papers, and over a dozen patents.

---
Last modified 19 September 2007 at 12:40 pm by snibbe